Updated 7/21/2016
This PDF document explains the process of First time login to ICOTS and setting your password. ICOTS 301 Ondemand Training Module also provides login tips.
First Time ICOTS Login
Once it has been confirmed that you are registered as a user of ICOTS, you will receive an email and can begin by logging in and setting your password within 20 minutes of receiving the email.

Click the 'Set Password' link in the email.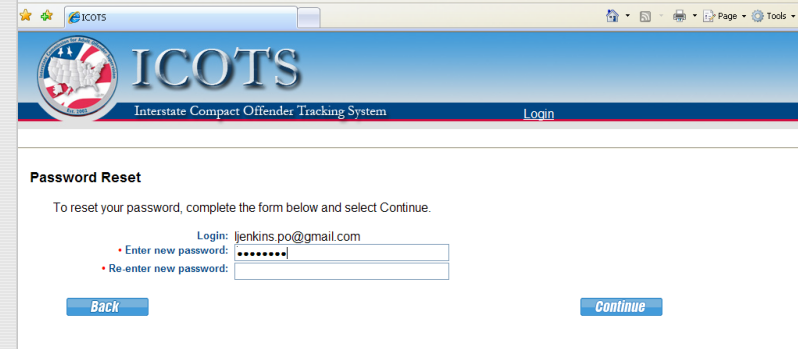 Type your new password twice and then click 'Continue'.
NOTE: Passwords must be between 8 and 15 characters in length and contain both alpha and numeric characters.
---
Alternate Password Reset
Go to the ICOTS site: https://icots.interstatecompact.org/ICOTS/login. Click on the "What is my password again?" link.

Next, you will be prompted to provide your login ID. This is your email address. Enter your email address (all lowercase and with no spaces) and click 'Continue'.
Instructions will appear directing you to go to your email inbox and retrieve a link that is active for only 20 minutes. With this link, you can establish a password to login.

Security questions are set-up upon password set-up and reset (every 90 days.) For additional information, refer to Code Release 27 & 28 notes.
NOTICE:

If you do not yet have an account with ICOTS, you must contact your state compact office to set one up, reset security questions or to unlock you account.
ICOTS First Time Login - download the PDF version of this guide.