FAQ's: 
Trouble Logging Into New ICAOS Dashboards?
Download new Dashboard reference document
The national office is pleased to announce the launch of the new ICAOS Dashboards. These dashboards provide updates to the 7 compliance dashboards previously available to the commission, as well as replace the 25 external reports on the ICAOS website. Altogether, 35 new dashboards were developed covering activity due dates, compliance performance, administrative oversight, and compact activity history.
Screenshot from the Active Compact Cases dashboard: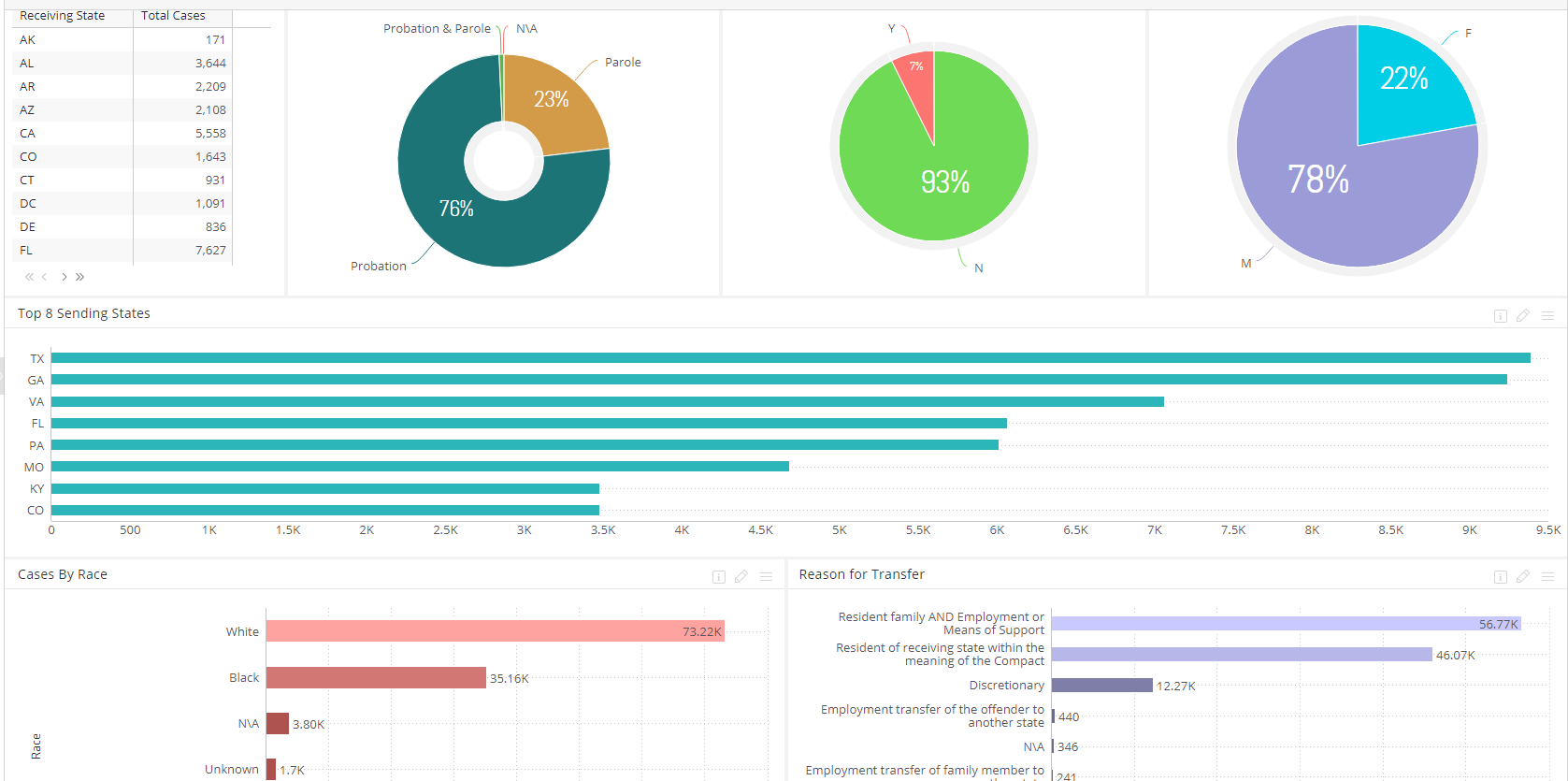 Screenshot from the Active Compact Cases Offense Details dashboard: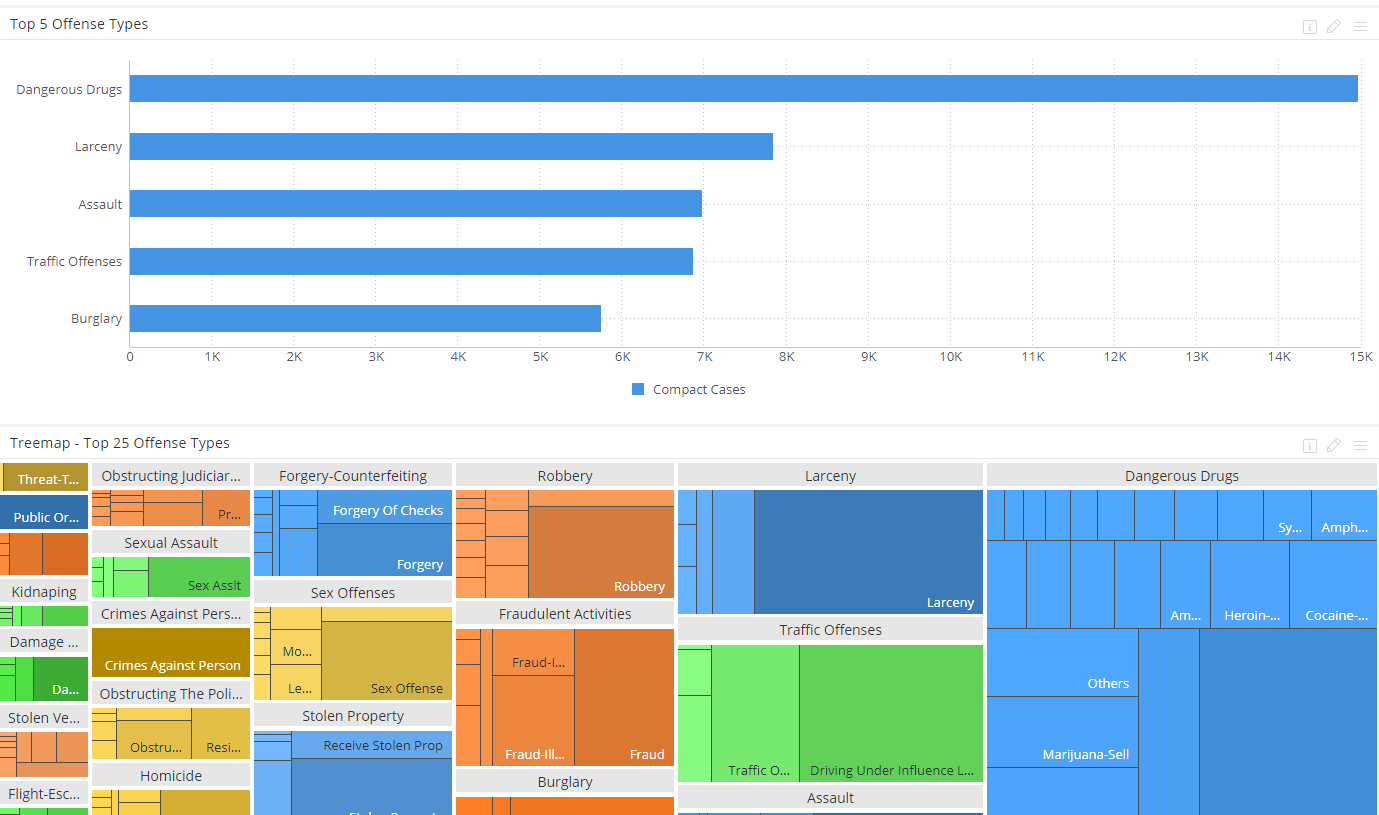 15 Brand New Dashboards
Fifteen of these new dashboards are brand new reports which include the following:
Last Activity Transmitted
Active Cases with Returning RFRIs
Offenders Awaiting Retaking
Offenders Retaken Then Re-Transferred
Rejected Cases Returning vs Awaiting New Transfer
Return in Lieu of Retaking
Benefits
In addition to providing easy to understand data visualization tools and charts, the new dashboard platform also include the following benefits:
Much faster performance - Changing a filter variable will refresh the dashboard in a couple seconds instead of 1-2 minutes
Data visualization tools provide at-a-glance understanding - Former external reports now include easy-to-read charts and graphs
One-click export of detailed reports to CSV or Excel - Manipulate and review the data in your own spreadsheet
One-click printing of all reports to PDF - Save, print, and email dashboards easily
Multi-browser support - No more issues with the dashboards or reports displaying incorrectly depending in your web browser
Developing new dashboards will be much faster
Dashboard Training
The national office is hosting trainings for compact office staff on the new dashboards in January:
Access The New Dashboards
To access the ICAOS Dashboards, a commission member or compact office staff just needs to log in to the ICAOS website after visiting this page: https://www.interstatecompact.org/icaos-dashboards
If a compact office needs to give access to the ICAOS Dashboards for someone that does not work in the compact office, the state's commissioner or DCA can email Xavier Donnelly at xdonnelly@interstatecompact.org.
List of Available Dashboards
Activity History
Arrival Notices Transmitted
Last Activity Transmitted - Incoming Cases (NEW)
Last Activity Transmitted - Outgoing Cases (NEW)
Transmitted Activities - Incoming Cases
Transmitted Activities - Outgoing Cases
Administrative
Active Cases with Returning RFRIs - Incoming (NEW)
Active Cases with Returning RFRIs - Outgoing (NEW)
Active Compact Cases - Incoming
Active Compact Cases - Outgoing
Active Compact Cases Offense Details - Incoming
Active Compact Cases Offense Details - Outgoing
ICOTS Users
Offenders Awaiting Retaking - Incoming Cases (NEW)
Offenders Awaiting Retaking - Outgoing Cases (NEW)
Offenders Retaken Then Re-Transferred - Incoming Cases (NEW)
Offenders Retaken Then Re-Transferred - Outgoing Cases (NEW)
Possible Duplicate Offenders
Rejected Cases Returning vs Awaiting New Transfer - Incoming Cases (NEW)
Rejected Cases Returning vs Awaiting New Transfer - Outgoing Cases (NEW)
Return in Lieu of Retaking - Incoming Cases (NEW)
Return in Lieu of Retaking - Outgoing Cases (NEW)
Compliance
Compliance Summary
Case Closures
Case Closure Replies
Requested Progress Reports
RI Replies
Transfer Replies
Violation Responses
Due Dates
Overdue Transfer Replies - Incoming Cases
Overdue Transfer Replies - Outgoing Cases
Supervision End Dates - Incoming Cases
Supervision End Dates - Outgoing Cases