Find out why reviewing and assigning activities should take place from within the Compact Workload Screen.
* ATTENTION SUPERVISORS *
Most functions you use are accessed via the Compact Workload.
The Supervisor role in ICOTS is for reviewing outgoing activities and to assign incoming activities. Reviewing and assigning should take place from the user's Compact Workload Screen.
Be sure to 'View All' Action items or visit the 'Action Items Tab of the Offender's Profile
The Compact Workload Tab is essentially a user's to-do list. All pending activities and actions are accessible from this tab. For Supervisors, taking action on an activity through the Compact Workload is the appropriate way to advance the activity forward in the workflow.

Don't overlook action items viewable by clicking the 'View All' link.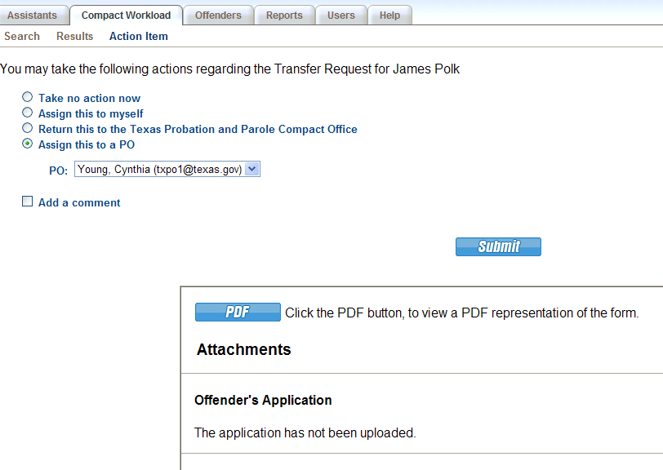 The Manage Caseload function, available within the Users Tab, is for changing the assignment of activities and case assignments. The Manage Caseload function is NOT an appropriate way to advance an activity forward in the workflow.
Supervisors have the ability to reassign action items, cases and activities from and to any other users with a PO or Supervisor role within their state.
See the Manage Caseload section of the User Guide for more information.