The Warrant Tracking Dashboard tracks warrant status entries and provides an audit tool for managing compact compliant warrants. This dashboard tracks:
Status of warrant entries
Timeline of warrant entries
Compact activity trigger for warrant entries
Why is warrant tracking important?
Commissioners and DCAs are directly responsible to ensure compliance with ICAOS rules, this includes ensuring timeframes for warrant issuance.
Documents steps states encounter when issuing warrants. This is important as in most states issuing compact compliant warrants for retaking involve various stakeholders to ensure compliance with ICAOS rules.
Assists states to identify trends or issues with various agencies involved in warrant issuance.
Allows warrant related information to be entered on the offender profile in ICOTS, thus communicating the warrant details to a receiving state pending apprehension.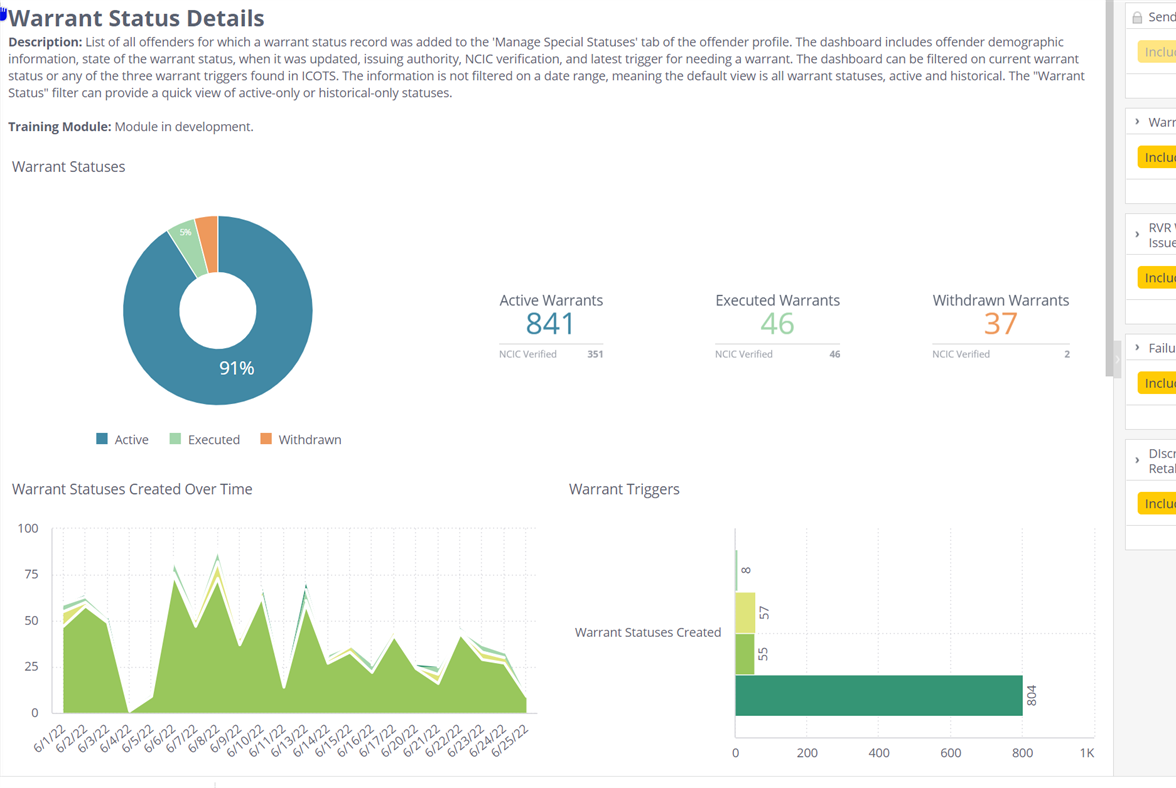 Use Excel Export (to a pivot table format) for optimal reporting results. Export details include*:
Warrant Status (Active, Withdrawn or Executed)
Type of Warrant Entry (Created, Updated, Authorization Confirmed (NCIC verification), etc.)
Various dates (Warrant requested, issued, NCIC entry, NCIC verified, etc.)
Issuing authority & contact details
Retaking authority & contact details
General comments
*Level of details available on the report depends on data entered on the warrant records. States should set standards for its users for both mandatory and non-mandatory field entry expectations. See Warrant Status details for more information.
Complimenting Reports:
Violation Summary Info-Outgoing Cases: Identifies violation reports requiring retaking that trigger need for warrant submitted within a specified timeframe.
Offenders Awaiting Retaking-Outgoing Cases: Identifies which individuals are currently pending retaking via warrant [Availability =Yes & Latest Violation Response = 'Warrant Requested/Issued'
Retaking Management Dashboard: Also sent in biannual emails to Commissioners, this report provides a summary of retaking activity including a snapshot of current active warrants and number of individuals awaiting retaking. This report also provides number of individuals retaken (specifying also number retransferred) during a determined timeframe.
Transmitted Activities-Outgoing Cases: Filtering by 'Arrive Failure' and 'DiscRetake' identifies other warrant triggering activities sent within a specified timeframe.